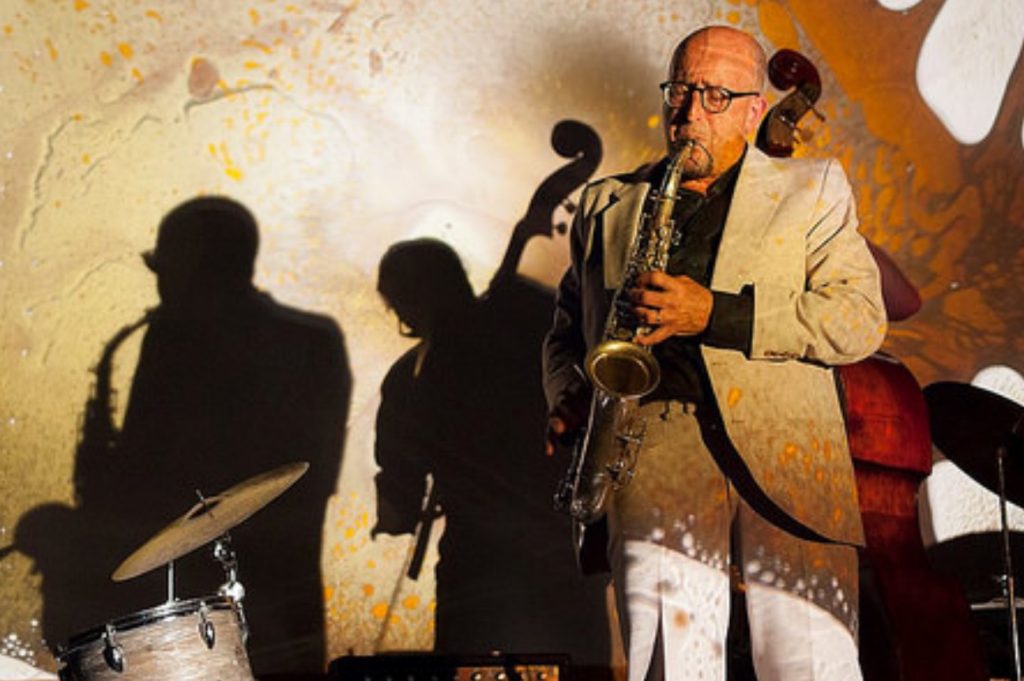 Martin Kuchen – Saxes
Raymond Strid – Drums
Per Zanussi – Bass
Review by freejazz–stef.blogspot.com :
It is extremely hard to understand, let alone describe in words, why some music is excellent, and why it goes this little notch beyond what all the rest is doing. The Trespass Trio does exactly that: move the sax trio to a higher level while on the surface not changing the format too much. The Scandinavian trio consists of Raymond Strid on drums, Per Zanussi on bass and Martin Küchen on alto and baritone sax. So, on the surface this is indeed a sax trio.
Here is my possibly useless try at explaining why it's excellent. The three musicians improvise in the most disciplined mode you can image, telling one story together, building tension as they move along, without any sense of urgency, giving every note and beat relevance, meaning, emotional depth, full of focus and intensity, pushing the boundaries of expressiveness without the need to use extended techniques or shock elements, using all the subtlety and nuance of their instrumental skills, knowing how to use pace, and space, and volume and silence, and making all the eight pieces, with all their creative variation and differences in approaches into one magnificent unified captivating, gripping, mesmerizing, sad, angry, hypnotic, heart-rending whole.
And there is variation, and there is unity, built around Küchen's anger with the brainless violence in the world, by individuals, but especially organized by armies, and the title is a quote from a US army general about their use of WP, white phosphor, a modern kind of napalm, in Fallujah in Iraq.
The first track starts beautifully, with all three instruments creating a sad pure melodic soundscape, monotonal and deep, like a prayer of resignation, a tear of sorrow, reducing the power to use their instrument to an absolute minimum, and it flows on into "Sad salsa in F", which creates this wonderful contrast between the sad melody and the barely dancing rhythm. The third track is more boppish, but in a real free form, an opportunity for all three musicians to continue the story but then full of power and agony. "Walking The Dead" is a composed piece with unison bass and baritone, again slow and sad and beautiful, with tears dripping from every note played by the arco the sax the drums. The highlight of the album is the title track, which starts with Küchen using all his masterly technique to show all the shades and colorings of a single note, the kind of sound that is the prerogative primarily of the sax, yet the way he keeps the notes vibrating, multiphonic, overblowing slightly, vocalizing the tone, making it weep, cry, howl, and still without using too much power, full of restraint but evoking real pain, then adding power, shouting it out, repeating the same agonizing phrase, yet changing volume and timbre, hair-raising, and it tears your guts out. Can you make a powerful story with just a few notes? Yes. Listen to this track. It is absolutely phenomenal. And then you think, that whatever comes next will be an anti-climax. Well, think again. "Strid Comes" is again full of power, more direct, raw and intense, now with Strid having a go at it for a drum solo. "The Indispensible Warlords" is again slow, with an pressing tension under the surface, sounding a little like Joe McPhee, not only because it sounds like a spiritual with sharp modern emotional edges, but also because he plays his baritone with such an incredibly soft velvety touch, showing deep, very deep emotional powers. The last track is another take on the title track, now somewhat faster, and a wonderful ending to a magnificent record. I have listened to many sax trios, but rarely have I heard one that went as deep as this one, as complete, as coherent. Overwhelmed by the quality of his playing, I focused maybe a little too much on Küchen, but all three musicians perform brilliantly, sensitive, subtle, rich. Only three acoustic instruments, but what a world of sound. What a musical experience. Don't miss this one!