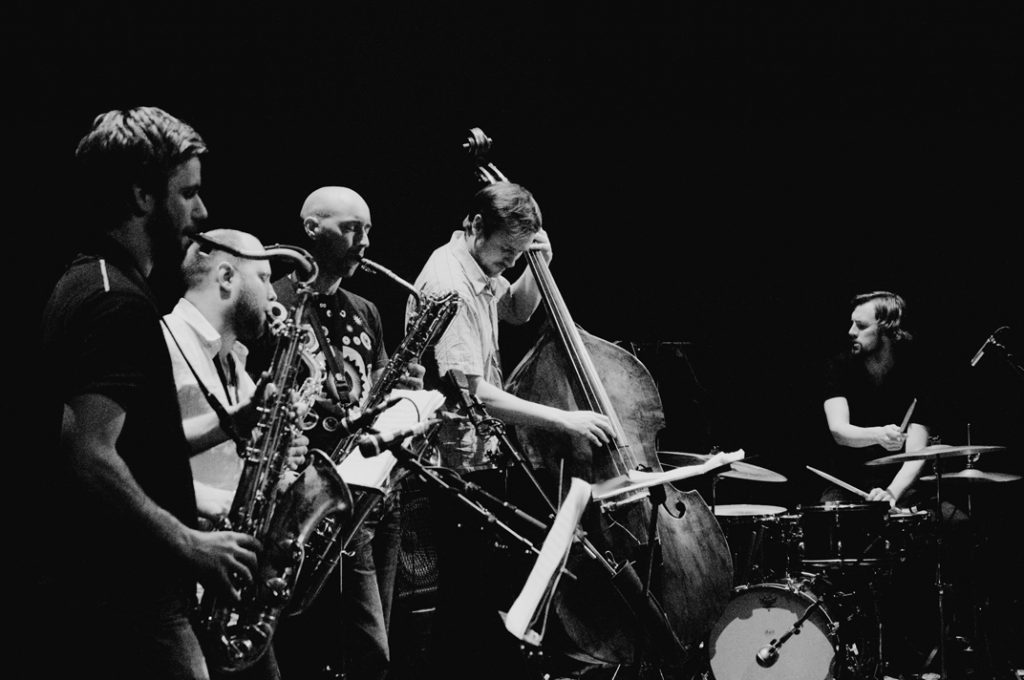 Three of Norway's leading sax players –Kjetil Møster, Eirik Hegdal and Jørgen Mathisen plus bass player Per Zanussi and drummer Gard Nilssen play an energetic and surrealistic mix of beautiful melodies, improvisation, grooves and acoustic noise.
Kjetil Møster, of Datarock fame, adds a rough, rock-like feel to the group that contrasts Eirik Hegdals melodic-lyrical baritone together with Jørgen Mathisen one of the top young players in Norway.
This unusual horn section alternates between creating virtuosic cacofony, funky riffs, percussive soundscapes and beautiful layers of sound .
"This music is vibrant, fast, and very modern. It is expressionistic, replete with saxophones that sigh, moan, honk, and howl. At the same time, it bursts with energy and swing. It's also utterly unpredictable." -Marc Meyers, All About Jazz
Together with one of Norway's most talented jazz drummers, Gard Nilssen, they give life to Per Zanussi's compositions which sound like a cross between free jazz, fifties exotica, contemporary improv, funk, film music and afrobeat.
The band projects a tremendous energy and joy of playing, resulting in ecstatic audiences at their concerts.
Since the beginning in 2001 Zanussi five have played concerts in Norway, Sweden, Finland, Slovenia, Germany, France, Japan, USA and Canada as well as Molde jazz festival, Nattjazz festival, Maijazz festival, Porijazz, Bordeaux Jazz Festival, Rochester Jazz Festival, Edmonton and Vancouver Jazz Festivals.
Zanussi Five have released three records ("Zanussi Five", " Alborado" and "Ghost Dance") on Swedish Moserobie rec. run by sax player Jonas Kullhammar, and "Live in Coimbra" on Clean Feed, receiving brilliant reviews.
The 13-piece version of the band, Zanussi 13, also have one record out on Moserobie.
The quintet also has a record out with Trondheim Jazz Orchestra.
Zanussi Five are:
Kjetil Møster – Tenor and soprano sax and clarinet
Jørgen Mathisen – Tenor sax and clarinet
Eirik Hegdal – Baritone sax and clarinet
Gard Nilssen – drums and percussion
Per Zanussi – double bass
The press on Zanussi 5:
"…This is luxuriant, contemporary jazz.." (5/6 points)
Terje Mosnes, Dagbladet, Norway
"…some of the most exciting Norwegian jazz…"
Roald Helgheim, Dagsavisen, Norway
"…A worthy successor to last year's critically acclaimed album…" (5/6 points)
Arild Andersen, Aftenposten, Norway
"…one of the most original acoustic jazz bands at the moment…" (5/6 points)
Tor Hammerø, Nettavisen, Norway